Posts Tagged "Research scholarships"
TWAS Fellowships
TWAS Fellowships offers fellowships to young scientists in developing countries to enable them to spend three to 12 months at a research institution in a developing country other than their own.
The purpose of these fellowships is to enhance the research capacity of promising scientists, especially those at the beginning of their research career, helping them to foster links for further collaboration.
Eligibility

The fellowships are for research and advanced training. They are offered to young scientists holding at least an MSc or equivalent degree.
Eligible applicants for the fellowships are young scientists working in any area of natural sciences who are citizens of a developing country and are employed by a research institution in a developing country.
There is no age limit. However, preference is given to young scientists at the beginning of their research career and those working in Least Developed Countries.
Lists of possible host institutions divided by field are available here. These lists are only a suggestion and institutions that are not included are acceptable as long as they are in a developing country.
Institutes of the Chinese Academy of Sciences (CAS), China, are not eligible host institutions under this programme. Applicants interested in conducting a fellowship in China are required to check whether their chosen host is a CAS institute. For a complete list of CAS institutes, see: english.cas.cn/institutes/. Applicants wishing to attend a CAS institute should either apply to the CAS-TWAS President's Postgraduate Fellowship Programme or consider the CAS Fellowships for Postdoctoral and Visiting Scholars from Developing Countries (http://english.cas.cn/cooperation/fellowships/201503/t20150313_145274.shtml).
Deadline: 1 October each year.
Terms of the Fellowships

The fellowships are offered for a minimum of three months and a maximum of twelve months.
TWAS covers international low-cost airfare plus a contribution towards subsistence amounting to a maximum of USD 300 per month. No other costs will be provided by TWAS.
The host institution is expected to provide accommodation and food as well as research facilities.
Fellowships are awarded by the TWAS Fellowships Committee on the basis of scientific merit.
Submitting your application
Applicants must complete the online application form by clicking on the 'Apply now' button at the bottom of this page. While filling in the online application, applicants also need to upload the following documentation:
scanned copy of your passport, even if expired (page with your name and surname);
CV, maximum five pages including publications;
Supporting Statement from Head of Home Institution;
two reference letters of senior scientists familiar with your work. Please note that the Head of your Home Institution cannot be one of your referees;
MSc certificate and relevant university transcripts;
Official invitation letter from the Head of the Host Institute;
IMPORTANT
Note that the Fellowships are provided for South-South visits only, i.e. for visits by researchers from developing countries to institutions in other developing countries.
Please be advised that applicants may apply for only one programme per calendar year in the TWAS and OWSD portfolio.
Applicants will not be eligible to visit another institution in that year under the TWAS Visiting Professor programmes.
One exception: the head of an institution who invites an external scholar to share his/her expertise under the TWAS Visiting Professor programmes may still apply for another programme.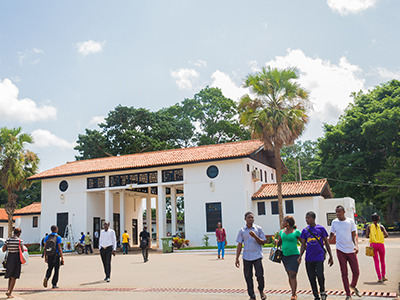 UG Nestlé PhD Scholarships for Research Excellence
Background
The University of Ghana has, through a 5-year Memorandum of Understanding, received a grant from Société des Produits Nestlé SA to support PhD students in conducting interdisciplinary research in the broad areas of Food and Nutrition Security, and Climate Change. The specific research themes, with some related topics, are as follows:
a. Affordable nutrition: addressing nutritional needs of low-income settings by developing innovative affordable food matrices from locally sourced crops and ingredients, potentially pulses and legumes.
i. Healthy Diets from a Sustainable Food System for Low-Income Consumers
ii. Identify solutions for affordable nutrition via Virtual & Rapid Prototyping
iii. Drying – Binding – Shaping as Enabler of Affordable Nutrition Solutions
iv. High-shear Granulation as Enabler of Affordable Nutrition Solutions
b. Implications of climate change on food security and nutritional quality of food for low income settings.
i. Cocoa shell, a by-product with high food potential to be valorized
ii. Valorize Moringa for climate friendly nutritious products
c. Scientific substantiation of the public health impact of the Nestle Iron Awareness Campaign
The grant is mainly directed to the funding of PhD students and will provide support for tuition, research costs and stipend starting from the 2020/2021 academic year.
Eligibility
· First or Second year PhD students in a discipline closely related to the research themes above (e.g. Food Science, Nutrition, Food Process Engineering and others).
· Applicant must have no competing scholarships and commit to fulltime PhD student status.
· First year applicants must meet the University of Ghana requirements and gain admission into an applicable PhD programme.
· Second year applicants should have met UG academic requirements including having passed their written and comprehensive examinations.
· Applicants must possess excellent academic credentials, and demonstrate motivation and capacity to carry out original, innovative and independent research.
· Applicant must be a national or permanent resident of Ghana
Application process
Interested applicants should download and complete the application form (link inserted below), and include the supporting documents indicated below, into a single PDF file. Applications should be emailed to:
The Director
Institute of Applied Science & Technology
College of Basic & Applied Sciences
University of Ghana
P.O Box LG 25, Legon Email: iast-nestle@ug.edu.gh
OR
submitted to:
The Assistant Registrar
Institute of Applied Science and Technology
DI Old Chemistry Building
Cruise O'Brien Road (Opposite the Recreational Quadrangle)
University of Ghana
Tel: 0244793703/0208540099
Deadline for submission of applications is 15th May, 2020, at 5:00pm.
Supporting Documents:
· One-page motivation statement
· PhD research proposal of not more than 3 pages (1.5-line spacing) clearly outlining the background, objectives, scope and methodology for applicant's research (include a budget and work-plan on separate pages). The proposal MUST be related to one of the themes or topics listed above.
· Applicant's curriculum vitae
· Graduate and Undergraduate Certificates
· Graduate and Undergraduate Transcripts
· Copy of applicant's national ID card
Note
Shortlisted applicants would be contacted for an interview. Interviews are expected to take place at the end of June, 2020 after which successful applicants will be notified. The selected candidates are expected to start academic work/research at the beginning of the 2020/2021 academic year (August, 2020).
Duration of programme
Funding for the programme is for a maximum of four (4) years (First year applicants) and three (3) years (Second year applicants).
Please find here the Link to the form for the application for the UG–Nestlé PhD Scholarships for Research Excellence