This job listing has expired and may no longer be relevant!
Full Time

Research Officer for Kintampo Health Research Centre (KHRC)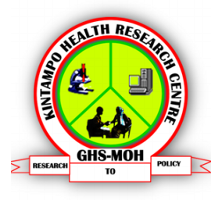 Job Description
Research Officer
Kintampo Health Research Centre (KHRC) is a well-established, African-based, research centre and one of three field research centres of the Research and Development Division of the Ghana Health Service an agency of the Ministry of Health.
The work of KHRC has implications for health policy and practice throughout Ghana, Africa and the rest of the world. KHRC is situated in the middle part of Ghana and offers research and training services nationally and internationally and its staffs are multidisciplinary.
Job Description
Research Officer : Evidence for Clean Household Energy (ECHE), Kintampo Health Research Center, Ghana Health Service Behavioral Specialist
Start date (month/year) and duration: August 2020 or as soon as possible, for two years
Deadline to apply: 14th August 2020
Background
Kintampo Health Research Center (KHRC), Ghana Health Service seeks a qualified Research Officer to support a series of studies to understand household and community choices around cooking technologies in Ghana. The studies fall under a larger collaboration between Columbia University, University of California and KHRC.
This position provides an excellent opportunity to gain extensive hands‐on research experience and to engage with local and international team of researchers. Key areas of involvement will include: piloting the study design and data collection, designing survey questionnaires, support recruiting, training and managing survey teams, designing and supervising logistics for the field activities, cleaning and analyzing survey data and assisting in the writing of project reports and policy memos. The position includes the possibility of longer term employment with KHRC depending on performance and availability of work
Candidates who can start as soon as possible will be preferred in the hiring process.
Project description
Nearly 3 billion people around the world use traditional cookstoves and fuels. According to the World Health Organization, the resulting air pollution leads to an estimated 4 million preventable deaths per year. In Ghana, about 70% of households cook by burning biomass including wood, charcoal and crop residue in open fires. While there have been significant public and private investments in efforts to encourage the use of clean cookstoves over the last decade, new approaches are needed to achieve substantial changes in air quality and health. The project aims to increase the adoption of innovative clean cooking technologies that reduce household air pollution.
The project takes a new comprehensive and multidisciplinary approach to addressing the problem that (1) integrates behavioral approaches to understand and overcome obstacles to adopting clean-cooking technologies; (2) deploys an array of clean technologies, rather than providing households with a single option; (3) aims to transition entire communities to new cookware and energy sources in order to achieve significant health benefits that cannot be realized through the transition of only a few households in any given community; and (4) examines broader infrastructural and regulatory barriers to adoption in order to facilitate transitions based on community needs. The project will focus on a region within Ghana with nearly 30,000 people — with the hope of dramatically and measurably improving their public health, while also contributing to women's empowerment in the region, economic development and improved environmental quality.  If successful, this effort should provide lessons that can be applied throughout Ghana and Africa more generally.
Job Responsibilities
The Research Officer will perform a variety of tasks including, but not limited to:
Working closely with other KHRC staff to ensure the timely completion of all project activities.
Developing and piloting the survey instruments and interventions, including programming digital data collection; managing the translation and back-translation of the survey into the local language.
Support training, and managing the field teams that will conduct the data collections.
Managing all field logistics, and getting approvals from local authorities.
Ensuring all data quality protocols are followed including auditing fieldworkers and supervisors and performing daily checks of the incoming data; correcting the errors of staff iteratively to ensure the data is of the highest quality.
Support managing the data from collection at the household to delivery of a final, cleaned dataset.
Willingness to support other activities in KHRC
Required Skills or Experience
A  Master's degree in economics, public policy, international development, public health or related fields.
Strong interpersonal and communication skills
Excellent project management and organizational skills with strong quantitative skills.
Knowledge of Stata or R; experience with data cleaning and analysis.
Experience generating reports from high frequency data checks or analysis.
Demonstrated ability to lead staff efficiently to achieve project goals.
Flexible, self-motivating, able to manage multiple tasks efficiently and a team player.
Experience implementing research in general and randomized trials and/or surveys in particular.
Familiarity with the design and implementation of behavior change intervention research.
GET MORE INTERVIEWS WITH SOBIAONLINE. CHOOSE FROM THE PACKAGES BELOW
How to Apply
CLICK ME TO APPLY
36 total views, 1 today