Full Time

Call Center Agent for Farmerline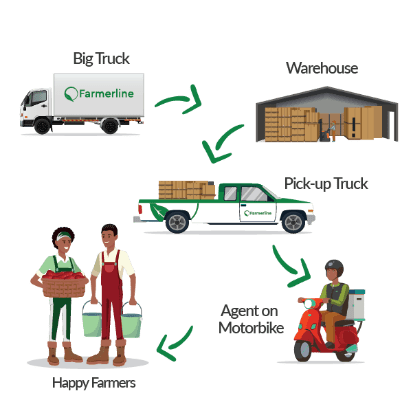 Job Description
Call Center Agent
Since 2013, Farmerline has directly helped farmers to improve their productivity and profit in Ghana and also provided technical support to other organizations to do the same. Farmerline started its operations serving 800 farmers in the Ashanti Region of Ghana with information via mobile telephony.
The company has since grown to reach 341k farmers (directly & through partners). Farmerline currently offers a complete bundle of services to farmers through direct sales and on credit.
We deliver quality farm inputs to remote areas where farmers live and work. We also support farmers by providing financing for farm inputs, education in planting techniques to minimize post-harvest losses and maximize market prices.
For the past 7 years, Farmerline has worked closely in partnerships with over 70 agribusinesses, government agencies, development organizations and input manufacturers that are aligned with the vision and strategic goal of creating lasting profit for farmers everywhere.
Farmerline works with over 250 young people in a variety of fields, from finance to engineering, to field operations. The team has been the main drivers behind our innovations and growth in the industry.
| | |
| --- | --- |
| Field | Details |
| Job Title | Call Center Agent/ Customer Success Associate |
| Department and Location | Farmer Services, Kumasi, Ghana |
| Preferred start date | Immediately |
| Incumbent Supervisor | Reports to the Head of Farmer Engagement |
Role Overview
The Call Center Representative is the essential link between Farmerline and the customers who are onboarded to the company's services. He/ she manages communication with these customers, mostly rural farmers in Ghana and West Africa. We are searching for a polite and professional Call Centre Rep who will work closely with other team members to provide outstanding service to our customers by answering questions and forwarding any complaints to the right Manager. As a Call Centre Agent, you may handle a high volume of incoming and/or outgoing calls and you should seek to provide a positive experience for each person who calls and provide an accurate or efficient response to satisfy each caller. The Call Centre Representative will be evaluated on their success connecting to farmers, and translating these interactions into both high satisfaction for customers and important feedback for Farmerline.
Responsibilities
Receive all incoming calls from clients and address their needs such as complaints or other issues with products or services
Receive enquiries and redirect them to the appropriate department for necessary action
Respond efficiently and accurately to all callers and ensuring that clients feel supported and valued
Actively listen and clarify information (if you do not know please ask before passing on any information)
Build good customer focused relationships with all callers confirming or clarifying information
Relate well with all clients and diffuse any angry callers as and when required
On a daily basis, document and record calls received and issues presented by the clients
Provide a monthly progress report of successful client/customer growth relationships
Translate, record and edit audio content into local languages
Conduct surveys to collect farmer feedback on trainings
Update incomplete profiles of served farmers
Conduct customer satisfaction surveys
2020 Quarter 2 Objectives
Content and curriculum development
Translate, record and edit training-based voice messages in local languages
Farmer Training and Behaviour change
Conduct surveys to collect farmer feedback on trainings
Qualification
Must be a young person
Applicant must have a minimum WASSCE
Must have the willingness and ability to work in rural communities
Fluency in several local dialects and especially Kassim, Dagaare, Frafra, Waale, Kusaal and Sisaale
Ability to multi-task and independently organize work and prioritize tasks.
Self-motivated, honest, highly responsible, and punctual.
Ability to work both independently and as part of a team
Willingness to handle a high volume of incoming calls
Self-starter who takes initiative, a problem-solver, and an excellent communicator
Proven experience in the use of mobile technology
Benefits and Compensation
Moderate Salary
Local Health Insurance
Daily  Lunch
Intensive training and professional development opportunities
Provision of  requisite resources for the delivery of a high-quality client end support
GET MORE INTERVIEWS WITH SOBIAONLINE. CHOOSE FROM THE PACKAGES BELOW
How to Apply
CLICK ME TO APPLY
35 total views, 1 today